Gallery
Coffins and Caskets
In addition to our base coffin and casket range, we are able to offer custom coffins. Custom coffin examples: painted and/or decorated with, footy colours, favourite colour or preferred artwork/design decals. We do require 5 days notice to have these produced.
There is also an opportunity for you as a Family to personalise a coffin by decorating it with paint, tribute messages, personal art and designs, hand prints, bling and anything else that makes it specific to your loved one.
All coffin and casket prices are available on enquiry.
Urns & Keepsake Jewellery
We have provided just a few examples below of what is available to you, and all prices are available on enquiry.
We do have various styles of Urns and Keepsake Jewellery in stock, and are also able to offer you a more extensive range via a catalogue that we can order from.
We are also pleased to offer a new range of 'teddy bears' designed as a 'keepsake place' for Ashes.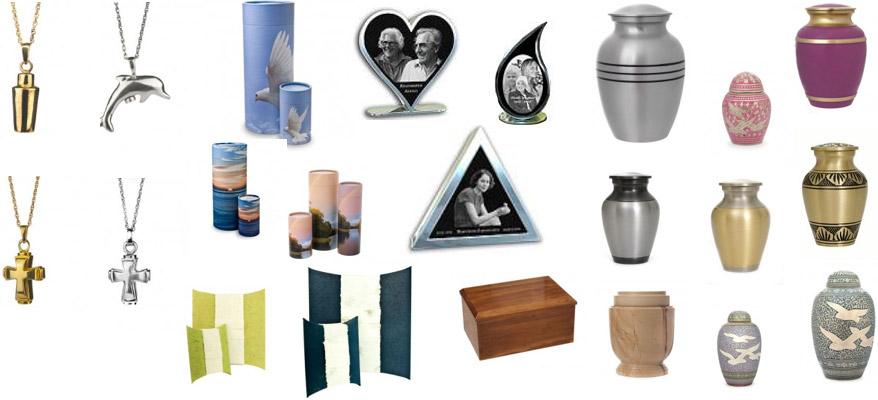 Monuments
We are here to assist you in any way we can with the planning, designing and production of a monument. If you are uncertain about what it is that you want to achieve, we can guide you through the process. We also have a booklet available, with pictures of the various styles of monuments on offer, and samples of the various stone used, and engraving options.
As a start point, what often helps is to pay a visit to the local Cemetery and look at the monuments that have already been installed. This may help you decide what you would like your monument to look like. Once you have an idea of what you want you can make an appointment with us to come and sit down and discuss the options available to you. If at the time of your appointment you have made a decision about the script details you would like on the monument, we are in a better position to provide you with an estimate of the costs. If you have made a decision and have all the details available, we are happy to provide a 'no obligation' quote.
The timeframe for completion is dependent on the availability of materials, and the type of engraving you choose. However, we can generally provide an estimated timeframe for each stage of the work, and a more precise completion date once we know the availability of your choices.